Traveling Outdoor Pop-Up Restaurant Debuts First Plant-Based Dinner in Los Angeles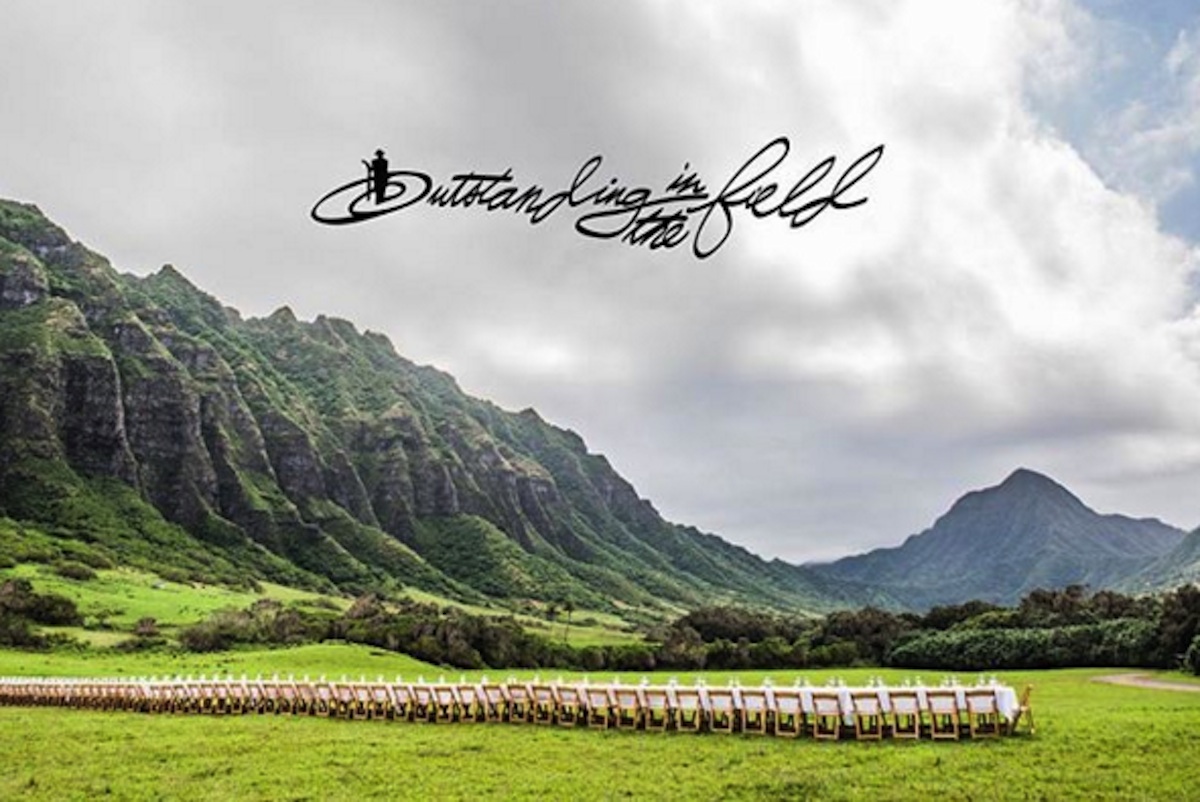 Discretely nestled in the foothills of Hollywood, just beyond the urban chaos of Hollywood Boulevard, lies Wattles Farm. This organic community garden has offered a natural respite for Angelinos since 1975, and on October 25th, 2017, it served as the venue of choice for the roaming farm-to-table dining concept, Outstanding in the Field. Nearly ninety guests gathered for the organization's first completely plant-based supper among the lush garden plots of Wattles for a truly unique dining experience.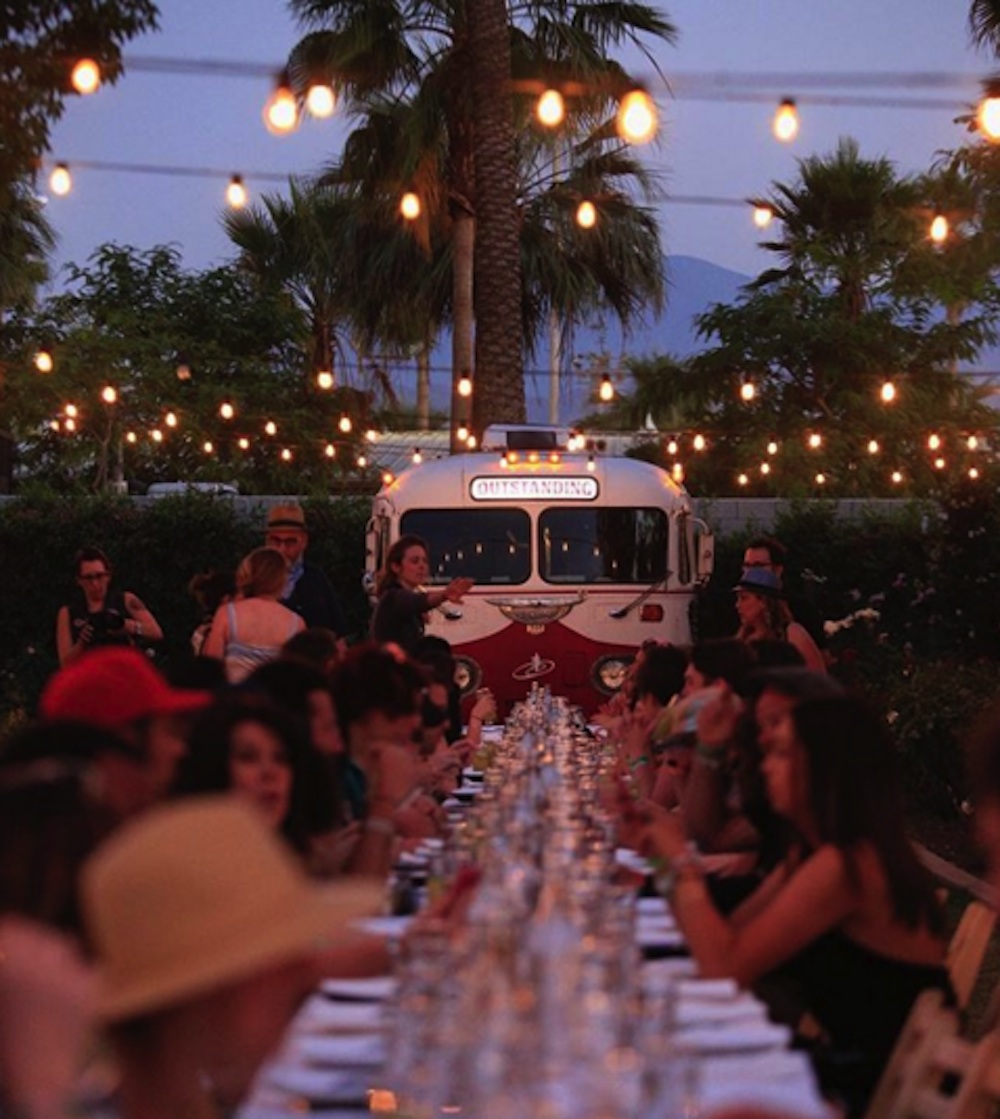 The five-hour event was both rustic and refined, meticulously curated yet extremely relaxed and comfortable. Women in breezy sundresses adorned with large-brimmed hats and men in smart tailored shirts and sunglasses paired their chic attire with practical boots and sneakers, prepared to "rough it" in the soft dirt of the garden. The day was hot – over 100 degrees – but the ample trees, giant misting fan, and chilled high-alcohol kombucha kept guests tolerably cool. Upon arrival, a chipper, sandy-haired Outstanding team member greeted each individual and instructed them to place their plate at the communal table (it is a tradition to bring your own plate). Guests were then free to enjoy a leisurely ninety minute reception and optional garden tour.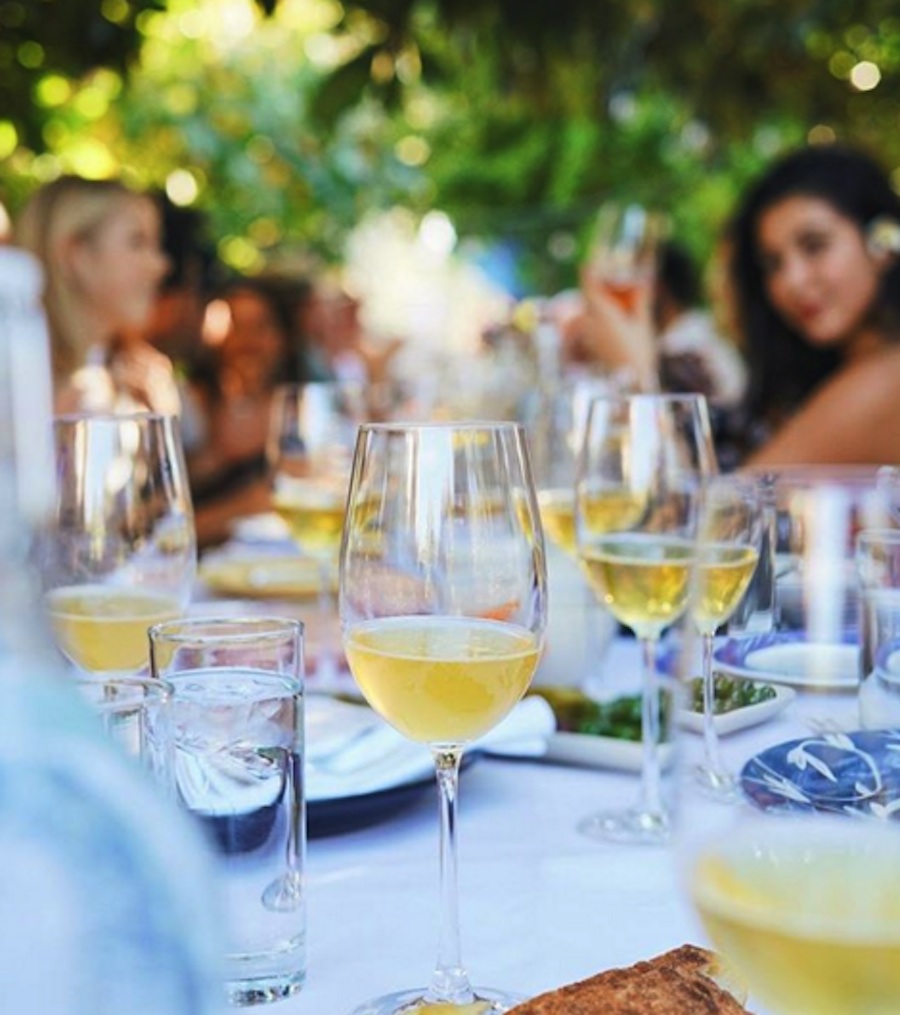 As attendees became acquainted with each other, they were treated to boozy refreshments supplied by local beverage companies and intricately prepared passed hors d'oeuvres. 101 Cider House impressed guests with brightly colored alcoholic probiotic drinks, filling wine glasses with the lavender hues of "Purple Monkey" and vibrant green "Bonfire Betty." The host chefs of the evening, Donna Jean's esteemed Roy Elam and up-and-coming S+M Vegan's duo Marie Chia and Shane Stanbridge, delighted with an array of petite bites before the sit down supper. The standout was the cultured cashew cream cheese-stuffed date wrapped in marinated eggplant – a vegan take on the trending bacon-wrapped date.
Just prior to settling in for dinner, Outstanding in the Field Founder, artist Jim Denevan, gave a short speech to educate the crowd on the history and mission of the organization. It began in the summer of 1999, and has since flourished into the robust roaming restaurant it is today. In 2017 they will serve close to ninety outdoor dinners in twenty-seven states, in addition to four Canadian provinces and even Burgundy, France. The goal is to introduce people to the source of their food and the local chefs that create it. They turn farm-to-table on its head, literally bringing the table to the farm.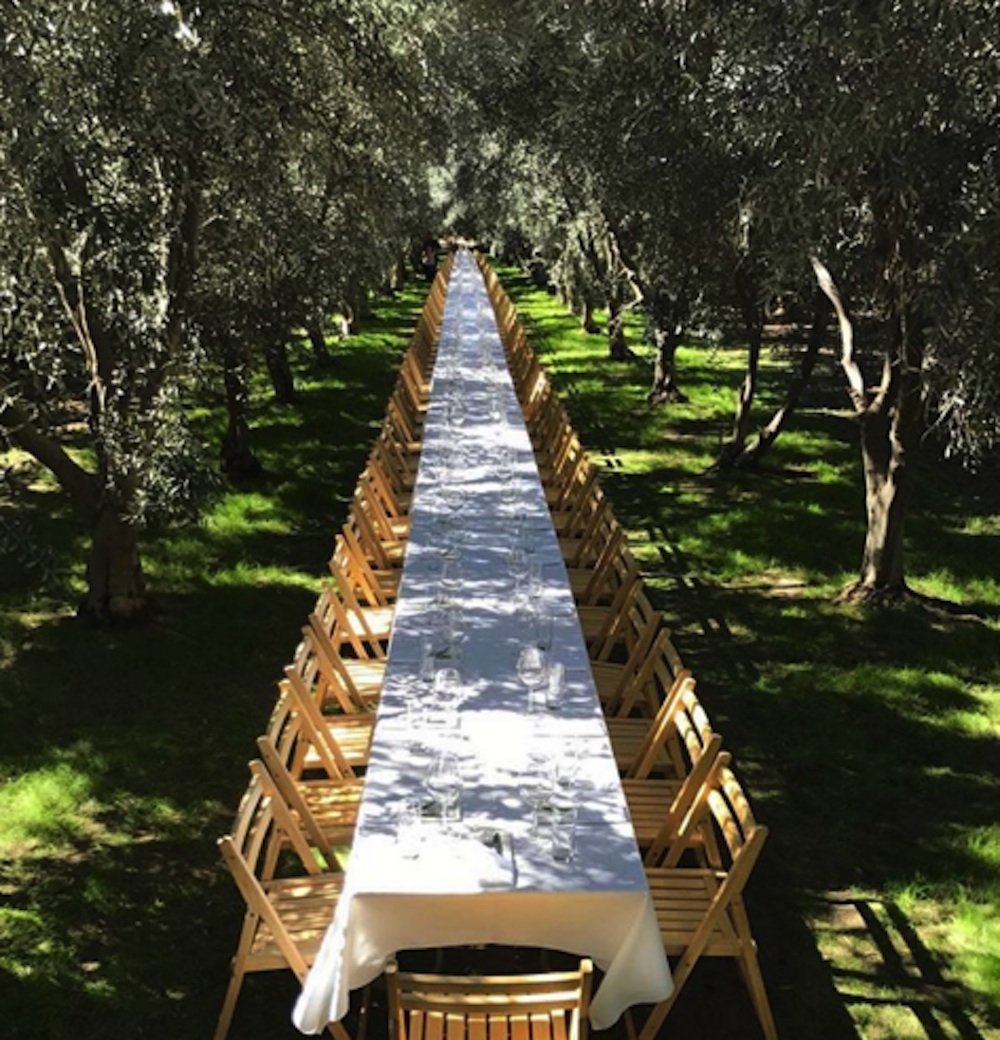 Wattles Farm president, Toby Leaman, concluded the presentation with a final warm-hearted welcome. Guests were then asked to take their seats at the tree-lined communal dining table. The multi-course meal was served family style, one dish for every eight diners, each thoughtfully paired with a beer or wine. Freshly made baguettes and sage focaccia accompanied a crudite platter of olives, picked carrots, tomato-onion jam, shiitake pate, and creamy vegan butter. The pate was decimated in minutes, the obvious favorite. The second course featured roasted magic myrna potatoes drizzled with a preserved plant-based lemon yogurt. This was followed by a lighter course of an arugula lentil salad, tossed with tomatoes, pistachio-milk curd, and smoked beets, dressed in a lemon-tamari vinaigrette. Both were exquisite, but the chefs demonstrated their true talents with their two main courses. Eyes popped wide as the gigantic bowl of green risotto was placed on the table alongside the elegantly plated winter squash ravioli with sauteed kale. The multiple textures of the risotto, such as the popped sorghum and roasted brussels sprouts, added an addictive contrast to the creamy herb pesto base. Diners helped themselves to second and even third scoops. After some time to digest and savor the rich meal, the evening concluded with a stellar pear cobbler, topped with homemade vegan "nutella" and cashew cream. Mere crumbs remained.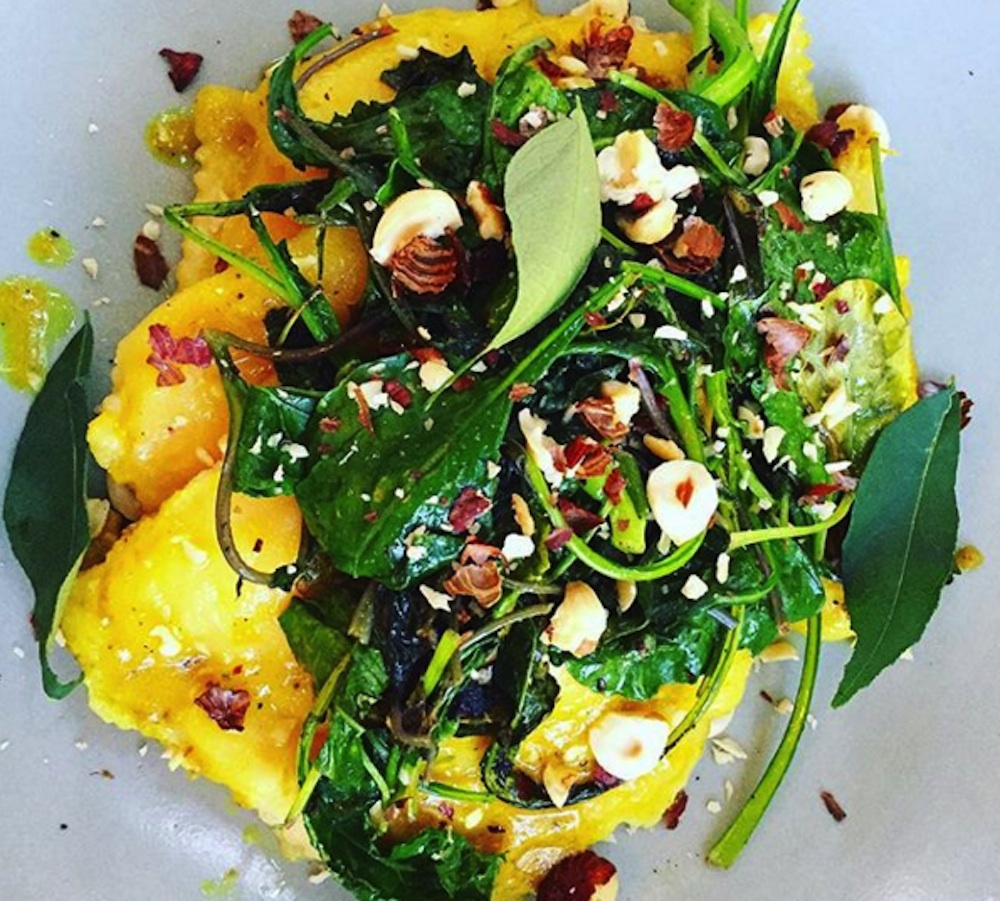 Contentedly full guests left the event just after sunset with a new appreciation for local produce and perhaps a new friend or two. The five hours of mingling, tasting, and learning was more than just a pleasant picnic on the farm, it is the beginning of a new approach to eating and entertainment. Outstanding in the Field educates people about the importance of eating and buying local through the entertaining culinary events, highlighting local chefs and producers while familiarizing diners with the source of their food. The team encourages everyone to "follow the bus" to see where the next meal will be held, but in the meantime, you can host your own Outstanding dinner. Prepare a meal using produce from the farmers market and local purveyors. You don't need to be a trained chef to create a fantastic, locally-grown meal. The produce does the work for you!
Find Tanya on Instagram and The Vegan Potluck Podcast.
Related on EcoSalon
Forager Makes Sourcing Local Food Even Easier
7 Fall Vegetables You Should Be Eating More of (Besides Pumpkin)
This Vegan Coconut Curry Bowl Has Endless Variations
The post Traveling Outdoor Pop-Up Restaurant Debuts First Plant-Based Dinner in Los Angeles appeared first on EcoSalon.
---