5 Pieces That'll Give You a Golden Glow: Friday Finds
Since spring is all about that golden glow, we've hand-selected a group of garments that you'll want to wear when the weather turns warm.
The beginning of a new season brings with it emerging trends and clothes that help us say goodbye to stale winter wardrobes. Springtime, in particular, conjures up visions of idyllic seaside locales and warm, sunny places that exude both fun and relaxation–and of course that golden glow. So when your closet matches the season, it can make you feel even more ready to conquer the rituals you know and love.
Shimmery, matte, shiny, or dark, there are many different versions of gold, and there's certainly one to flatter your personality and look. To prove it, we've rounded up five different pieces that any woman would be proud to have in her closet.
1. Stardust Sequin Jacket
This statement jacket is outfitted with embroidery and sequins that are sure to dazzle wherever you go. We're especially liking this as your go-to office-to-evening piece, since it has such stellar transformative powers. Although this would look sweet paired with a little black dress, the structure-less fit to this jacket lends a casual edge, allowing you to pair it with less formal attire, too. Jeans, skirts, tanks, tees, and even sneakers or sandals are not off limits with this effortless piece. Priced at $328.
2. Deep Gold Kimono
If this reminds you of the '70s, that's the point. Fortunately, it's been given a modern twist with the open deep-V front, tie waist, and gold foil finish. The kimono style top would look great paired with a variety of different pieces. A one piece swimsuit and wide-leg pants, a sexy bralette and jeans, your two piece bikini, or a simple tank and shorts would all work well with this blouse. Priced at $68.
3. Shimmering Midi Skirt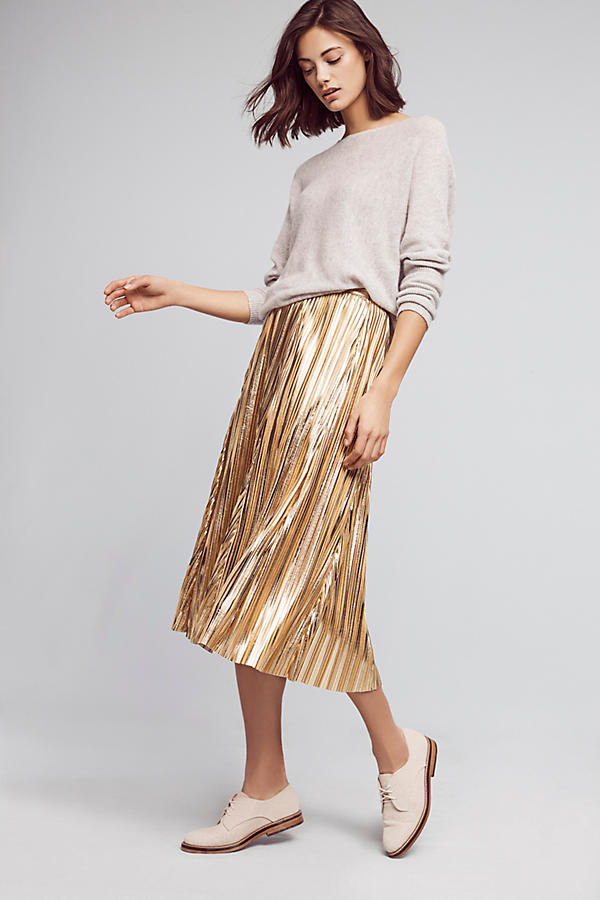 The golden glow of this skirt is awesome for the office, or date night, making it as versatile as it is beautiful. The midi length is flattering on a range of body styles, as it the rise. For work time attire, we recommend pairing the skirt with a soft cream colored sweater, a simple necklace, and lace-up loafers. For weekend fun, we recommend pairing the skirt with with a crop top or strappy bodycon tank, statement earrings, and a pair of ankle tie heels. Priced at $98.
4. Bright and Shiny Bomber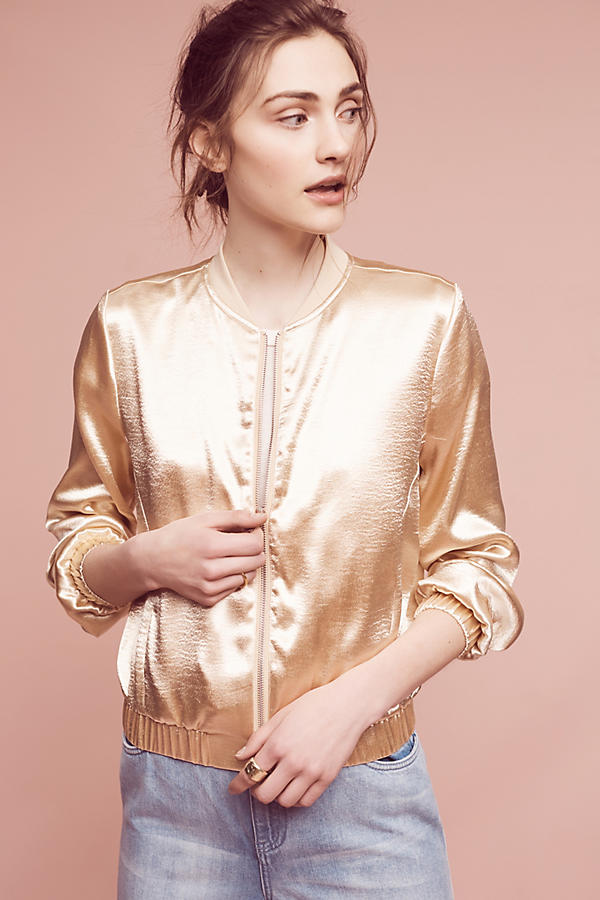 If you're in need of a go-with-everything jacket that's light enough to wear on spring evenings, but still substantial enough to keep you warm, then look no further than this golden bomber jacket. The design and color will add instant cool girl style to any outfit you pair it with. Try as a coverup with a sexy black dress, a sheer lace blouse, or with a simple tank, pair of shorts, and sneakers. This also makes an excellent pairing for the bralette tops that are trending big this season. Priced at $118.
5. Statement Embellished Mini
A beautiful embellished mini skirt like this one is perfect for those times when you want to turn heads. Whether you wear it to an event, or for a girls' night out, it's sure to help you stand out from the crowd. Styling this skirt is simple. From basic silky tucked-in tanks, to soft, slightly fitted sweaters, the possibilities are vast. When it comes to shoes, you can have fun here, too. Choose something edgy, like a flat boot, something sweet, like a strappy heel, or something trendy, like an ankle bootie for the perfect footwear pairing. Priced at $198.
*Disclaimer: Help support EcoSalon! Our site is dedicated to helping people live a conscious lifestyle. We've provided some affiliate links above in case you wish to purchase any of these products.
Related on EcoSalon
The 10 Hottest Spring 2017 Fashion Trends Have Arrived
7 Surprising Ways Clothing Affects Your Life (Not Just Your Look)
5 Pieces Inspired by Pantone's 2017 Color of the Year: Friday Finds
The post 5 Pieces That'll Give You a Golden Glow: Friday Finds appeared first on EcoSalon.
---