5 Gorgeous Ways to Rock a Summer Bralette: Friday Finds
Strappy, lacy, sheer, opaque, modest, sporty, sexy, or some combination thereof, bralettes come in a variety of shapes and sizes, meaning you can rock one of summer's hottest trends in a fit that's right for you.
In case you've ever wondered exactly how to wear one, know that you're not alone. Figuring out different ways to style a bralette, coupled with actually putting one on (and leaving the house) for the first time, can feel a little intimidating, but once you've mastered the looks you enjoy most, we're pretty sure this will be your new favorite trend. From tanks to overalls and everything in between, our suggestions will have you rocking out with your bralette out all season long.
1. Denim Overalls + Bralette
Denim overalls are back in a big way this year, and they're perfect for summertime fun. These black overalls are laid-back and great for pairing with a lace bra top. You can go black-on-black, or choose a pop of color, like burgundy, mustard, or just basic white. Either way, there are plenty of opportunities for accessorizing. A pair of sneakers, sunglasses, and your trusty backpack are all you really need to complete the look, but you can get as creative as you'd like. Add a third layer with a sheer crop top, pile on some thin necklaces and a choker, or take the less-is-more route. Priced at $56.
2. Loose Tank + Bralette
The loose tank and bralette is a really basic combo, but proves to be versatile and wearable. Whether you're heading to the gym, or out for some window shopping, pairing a bralette with an oversized tank, or one that features strategic cuts, will mesh well with jeans and shorts. The tank we've chosen would showcase your bralette from the sides and the back, so look for one that has lots of detail in those places. Priced at $29.
3. Structured Blazer + Bralette
Playing peek-a-boo under a structured blazer or jacket is super sexy and perfect for a night out on the town. The blazer and shorts pictured above would pair well with a bralette exactly as they are, or you can mix and match with many of the things you already own. Try the blazer and bralette with a pencil skirt, a pair of skinny jeans, or with wide leg trousers. Heels, a clutch, and a pair of statement earrings will round out the ensemble nicely. Priced at $49.99.
4. High-Waisted Skirt + Bralette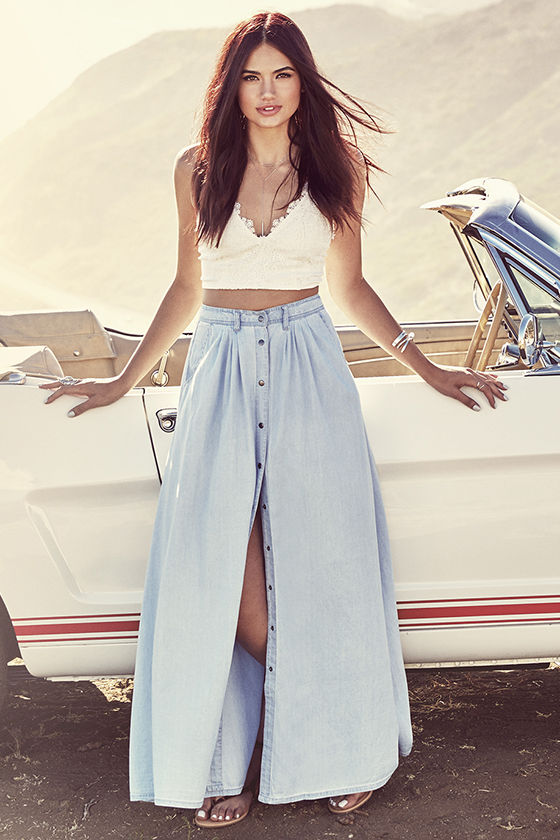 Whether flowy, clingy, A-line, or otherwise, just about any high-waisted skirt would work well in this case. However, the jean skirt shown here is so adorable and Cali casual, that it had to make a place on the list. Pair it as shown with a white bra top, and feel free to tack on some layers through jewelry, other sheer tops, or with an oversized hat and your favorite strappy flats. Priced at $49.
5. Sheer Blouse + Bralette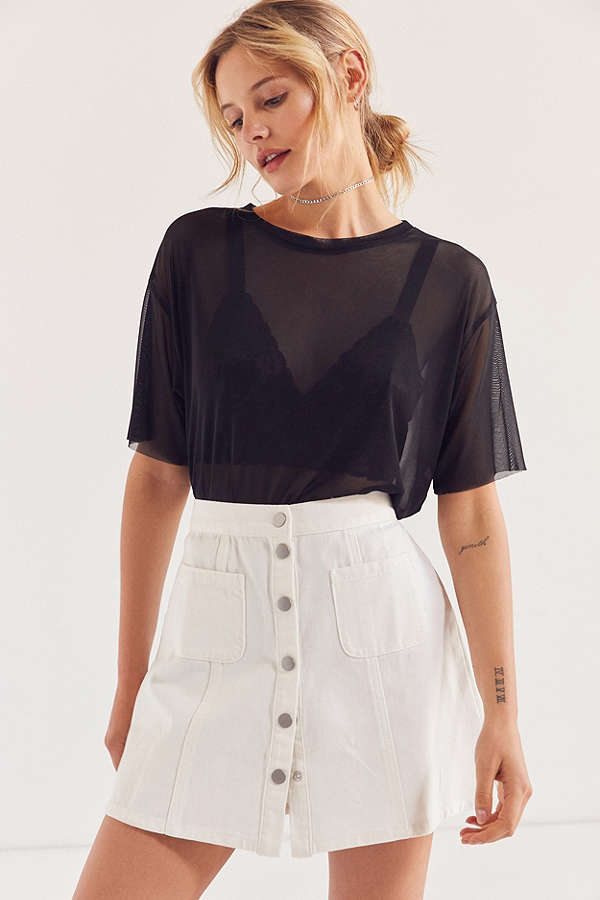 This pairing is really chic and can be done with a variety of different sheer fabrics. Lace, chiffon, muslin, mesh, and other see-through materials will change how much of the bralette you can see, allowing you to be in control of the sheerness. And whether it's a basic mesh tee, or a sheer button down blouse, the look achieved in the end is totally up to you. In this case, the sheer, oversized top above offers lots of layering potential and would look great tucked in or out. Wear it with jeans, skirts, leggings, and more. Priced at $34.  
*Disclaimer: Help support EcoSalon! Our site is dedicated to helping people live a conscious lifestyle. We've provided some affiliate links above in case you wish to purchase any of these products.
Related on EcoSalon
7 Surprising Ways Clothing Affects Your Life (Not Just Your Look)
11 Must-Wear Spring Sandals That are Also Vegan
5 Looks Inspired by Sea Glass: Friday Finds
The post 5 Gorgeous Ways to Rock a Summer Bralette: Friday Finds appeared first on EcoSalon.
---